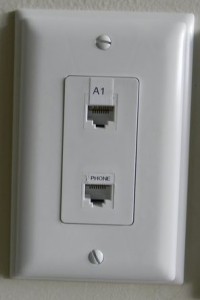 Our Business Suites are wired with security and flexibility in mind. Each suite is wired independently for telephone and network service. Cat-6 Ethernet cable is run from convenient jacks to a router in a secure access panel with room for your own equipment.
Many internet options are available to The Exchange, public Wi-Fi is offered along with multiple providers servicing the building. Giving you the option of Cable, DSL or Fiber Optic internet service through Goshen Fiber Network. Each Suite is independently wired with Gb ready Ethernet, however suites can be linked if a single entity rents multiple suites.
Modern temperature controls in each suite keep the HVAC system set to keep you comfortable.
Business trunk lines are available through Goshen Fiber Network for $20 per month.