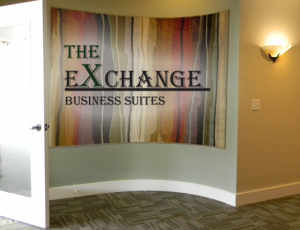 Join the thriving business community in Downtown Goshen. The Exchange Business Suites offer newly remodeled private and secure office suites combined with a shared space workplace setting offering amenities not available in this exciting market. The Exchange Business Suites offer the right combination of security and shared amenities, all located in the historic Goshen Theater block. Front suites offer large windows facing Main Street.
Complete renovation of the space was completed in 2014. In addition to private and secure space is more than 1,000 ft²  of common space. On the second floor of the Menno Travel Building, 210 S. Main St. in vibrant and historic downtown Goshen, near Better World Books, The Electric Brew, Constant Spring, adjacent to the Goshen Theater.
The Exchange Business Suites is also home to The Exchange Travel Service and Doug Risser, who arranges international travel for select clients.  Risser's specialties include travel in Latin America as well as river cruises and upscale "blue water" cruises.
We are holding space on Oceania Cruises Nautica, a sister ship to the Azamara Journey and Quest we sailed on, offering big ship amenities but with fewer than 700 passengers, allowing access to smaller ports.  The ship will sail from Venice to Athens, departing Venice on November 6, just over a year from now.  We also chose to go off-season in November, a time when some of the Mediterranean's most popular ports will be uncrowded.  Such places as Venice, Dubrovnik, Athens, and Santorini will be "ours" (with a few others).  The weather will be cool, perhaps similar to fall in our area with highs in the 50s and 60s.
The cruise is port-intensive, i.e. every day a different port.  At this point, we can accommodate only a few additional passengers and the ship is filling fast.  Staterooms are available for verandas, concierge verandas, and suites.  Standard inside and oceanview staterooms are sold out.
The cruise is offered two ways, "cruise only" or with Oceania's OLife Select with air included.  We think the OLife Select option is the better value.  It's $1100 more but includes air from most larger cities.  It also includes unlimited internet onboard for one sign-in per stateroom and then a choice of either an onboard credit, unlimited wine or beer with lunch and dinner, or six shore excursions per stateroom (you can choose which to receive later at final payment time).
Our space for the group is now completely sold out with 37 passengers traveling on the cruise and most extending before the cruise in Venice and after in Athens.  Anyone joining now must book a suite and pay regular retail rates without group amenities, but we would be glad to add someone under those conditions.
Click on the link for more information on Oceania Cruises (renowned for the cuisine), the Nautica, itinerary, pricing, deck plan and staterooms.  If you click on the various ports of call, it gives information on each port.
We hope you'll consider this as an opportunity to visit a wonderful area with friends both old and new on a beautiful ship at an uncrowded time of year.  Please visit the website and let us know what questions you might have.
Doug & Sharon