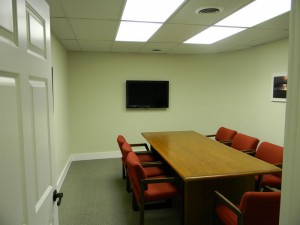 Our collaborative space includes seven private and secured offices in addition to large amounts of shared space, saving offices the space they might otherwise need for toilets, fridges, storage, meetings, and more.  Electric, heat, air conditioning, sewer, water, and shared open Wi-Fi are included in the monthly monthly rent.  All seven of the current spaces are occupied.
The Exchange is part of MTS Realty LLC., the owner of the entire building.  At present only one office suite is open and available, Suite 4 with 432 sq ft of space. Suite 4 is located across the hall from the conference room and near the toilets.
The location is in one of the most active blocks in downtown Goshen, adjacent to the Goshen Theater, and close to Soapy Gnome, Found, Ten Thousand Villages, Fables Bookstore, Constant Spring, and other retail businesses.
The Exchange Business Suites offer the right combination of security and shared amenities, all located in the the historic Goshen Theater block.